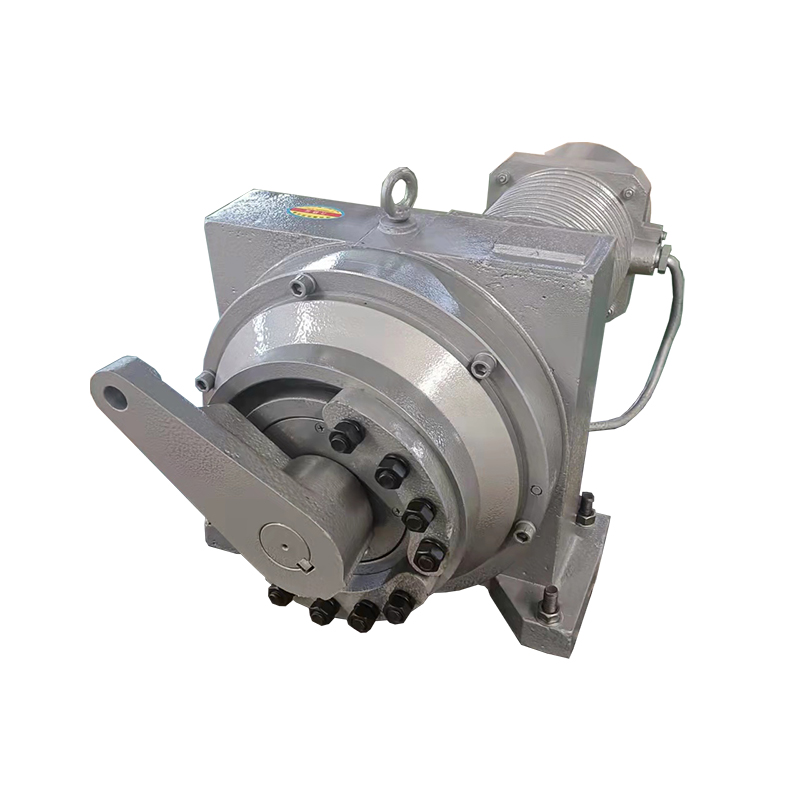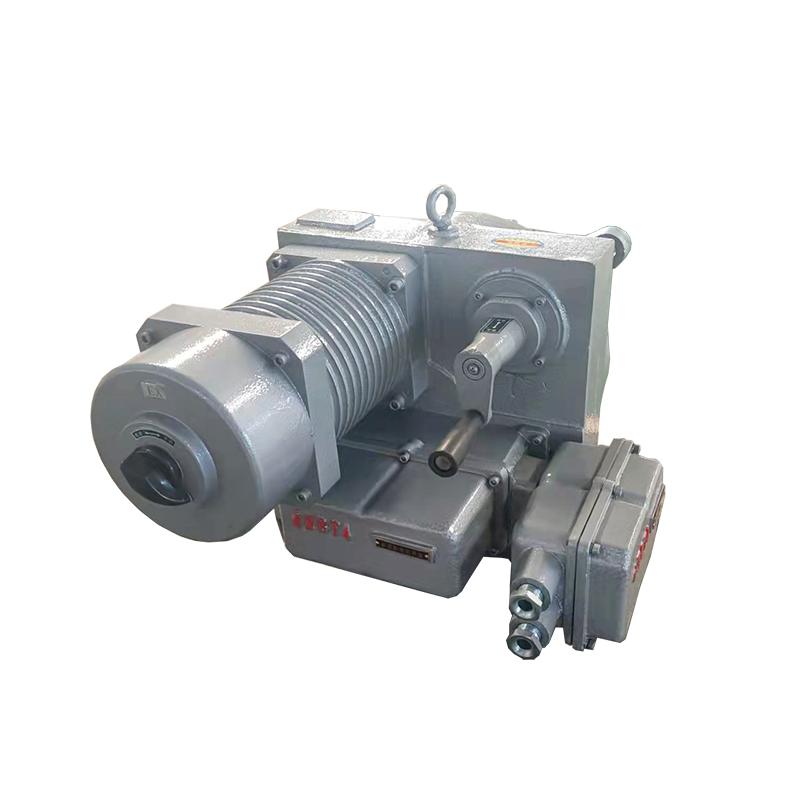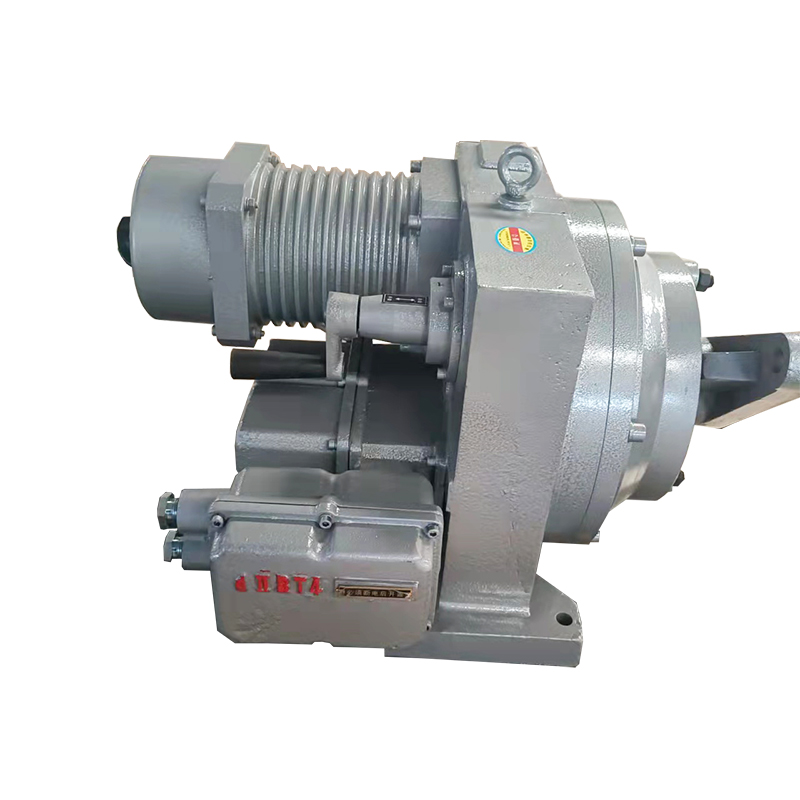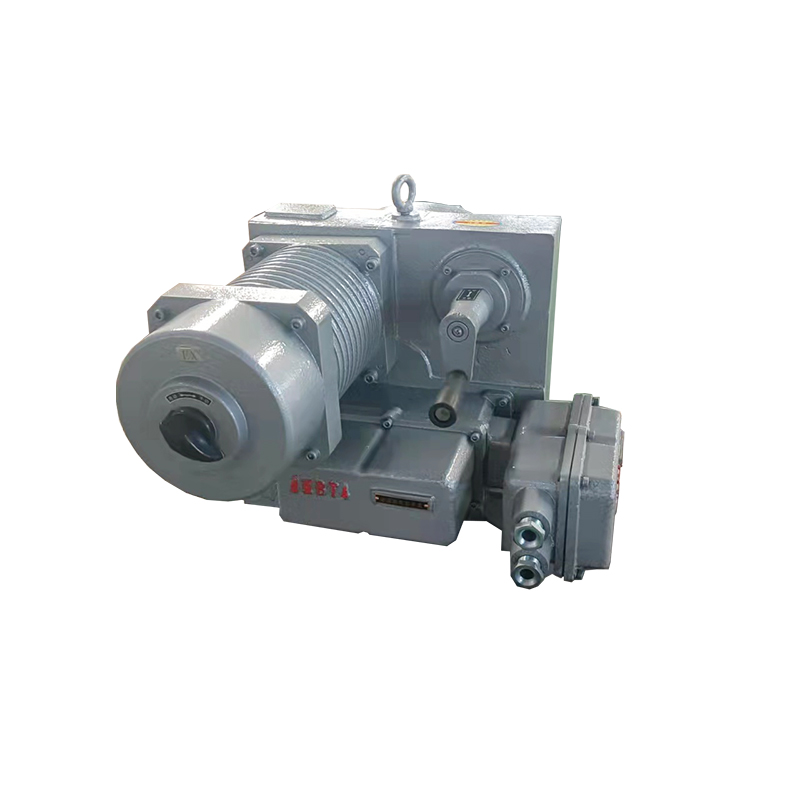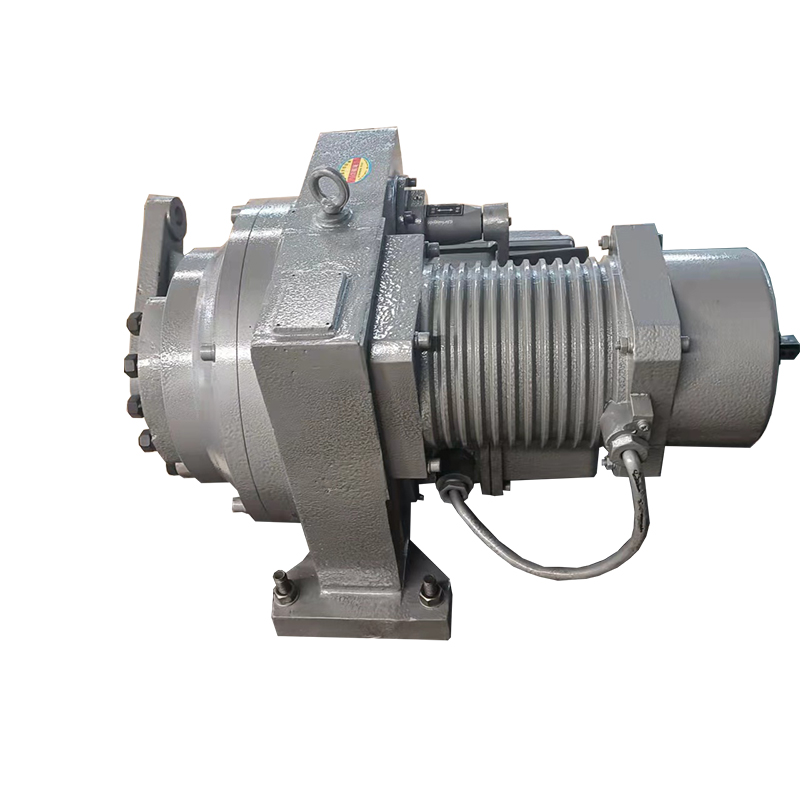 一、概述
  I. Overview
  DKJ系列电动执行机构是工业过程测量和控制系统的终端控制装置,它能够将系统的控制信号转换成输出轴的角位移以控制阀门内截流件的位置或其它调节机构,使被控介质按系统规定的状态工作。
  The DKJ series electric actuator is the terminal control device of the industrial process measurement and control system. It can convert the control signal of the system into the angular displacement of the output shaft to control the position of the flow interceptor in the valve or other regulating mechanism, the controlled medium is made to work in the state specified by the system.
  DKJ系列电动执行机构具有角行程和直行程2类产品。
  DKJ Series Electric actuator has angle stroke and straight stroke 2 kinds of products.
  角行程电动执行机构用于驱动90度转角的阀门如蝶阀、球阀、百叶阀、风门、旋塞阀、挡板阀等。
  Angle Stroke Electric actuator is used to drive 90 degree angle valve such as Butterfly Valve, ball valve, louver valve, Air Valve, Cock Valve, baffle valve, etc.
  直行程电动执行机构用于驱动单、双座调节阀、套筒阀等需要直线位移的调节阀。
  Straight-stroke electric actuator is used to drive single-seat, double-seat regulating valve, sleeve valve and so on, which need straight-line displacement.
  DKJ系列电动执行机构是吸收先进国家电动执行机构的优点,结合我国的实际情况而研制开发的系列产品。DKJ系列电动执行机构关键元器件均为进口,零部件加工、元器件筛选、整机装配均严格按照工艺及技术要求执行,整机测试严格执行国家标准。
  DKJ Series Electric actuator is a series of products developed by absorbing the advantages of advanced electric actuator and combining the actual situation of our country. DKJ Series Electric actuator key components are imported, parts processing, components screening, assembly are strictly in accordance with the process and technical requirements, the whole machine testing strict implementation of national standards.
  DKJ系列电动执行机构安全可靠、品种规格多、精度高、功能齐全、重量轻、安装、调试操作、维修方便,广泛应用在能源、冶金、石油、轻工、化工、建材等行业,在工业过程测量和控制系统中发挥重要作用。
  DKJ series electric actuators are safe and reliable, with many types and specifications, high precision, complete functions, light weight, easy installation, commissioning, operation and maintenance. They are widely used in energy, metallurgy, petroleum, light industry, chemical industry, building materials and other industries, it plays an important role in industrial process measurement and control system.
  二、使用条件
  II. Use Conditions
  1.电源条件
  1. Power supply conditions
  单相电压:220V ±10%
  三相四线:380V ±10%
  频 率:50Hz ±1%
  Single-phase voltage: 220V ±10%
  Three-phase four-wire: 380V ±10%
  Frequency: 50Hz ±1%
  2.环境条件
  2. Environment conditions
  温度: -10~+55℃
  相对湿度:不大于95%,周围空气中无腐蚀作用的介质
  工作制:可逆断续工作制,接通持续率25%时每小时接通次数320
  Temperature: -10~+55℃
  Relative humidity: not more than 95%, no corrosive medium in surrounding air.
  Working system: reversible intermittent working system, connection times per hour is 320 when
  continuous rate is 25%.
  三、主要技术性能
  III. Main Technical Performance
  1、中英文调试菜单,简单直观。
  1. Debugging menu in Chinese and English, simple and intuitive.
  2、模拟量控制标准4-20mA,输入信号阻抗100Ω,输出信号阻抗<750Ω。(标配)
  2.Analog quantity control standard 4-20mA, input signal impedance 100Ω, output signal impedance <750Ω. (Standard)
  3、还有多重保护措施:
  3.It also has multiple protective measures:
  a)电子极限限位。
  a) Electronic limit.
  b)断信号保护,保持原位,全关,全开,三种方式供选择。
  b) Fault signal protection, keep in original place, fully closed, open three ways to choose.
  c)堵转保护,当有控制命令时,经过8S,无反馈动作判断为堵转,一般为内部线路故障。
  c) Blocking protection, blocking refers to that there is no feedback action after 8S when has control command, generally, it is internal circuit fault.
  4、高精度控制,误差为±1%,制动采用经过延时的反动作制动,电流波动小。
  4. High-precision control, the error is ±1%, the brake uses anti-action of time delay, the current fluctuation is small.
  5、防护等级高可到IP66。
  5.The highest protection level can be IP66.
  6、执行标准IEC60259,JB/T8219-2016,GB4208-1993及参照
  6.Implementation standards and reference: IEC60259, JB/T8219-1999, GB4208-1993
  四、操作和调整
  IV.Operation and Adjustment
  1、电气配置图1. Electrical configuration diagram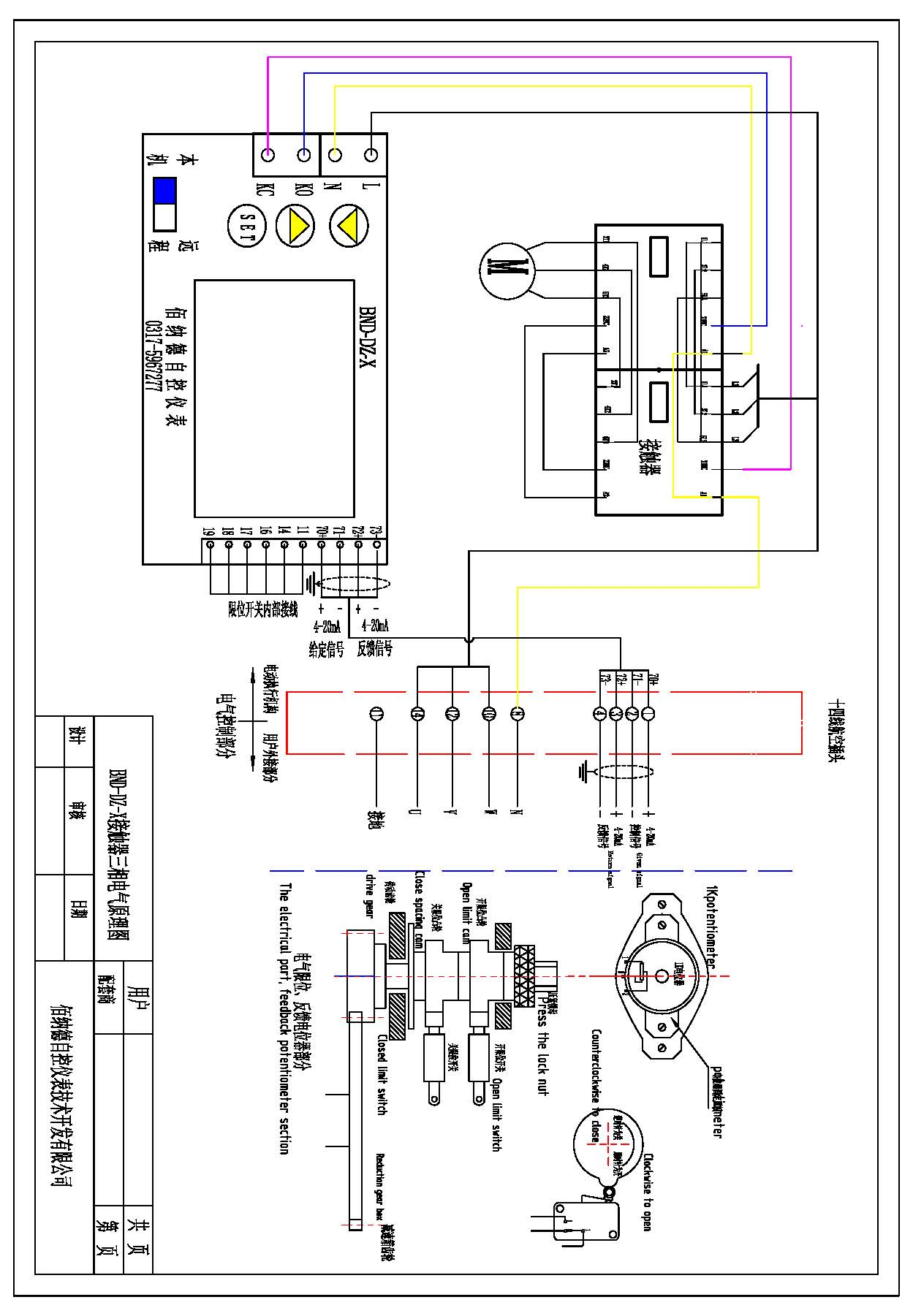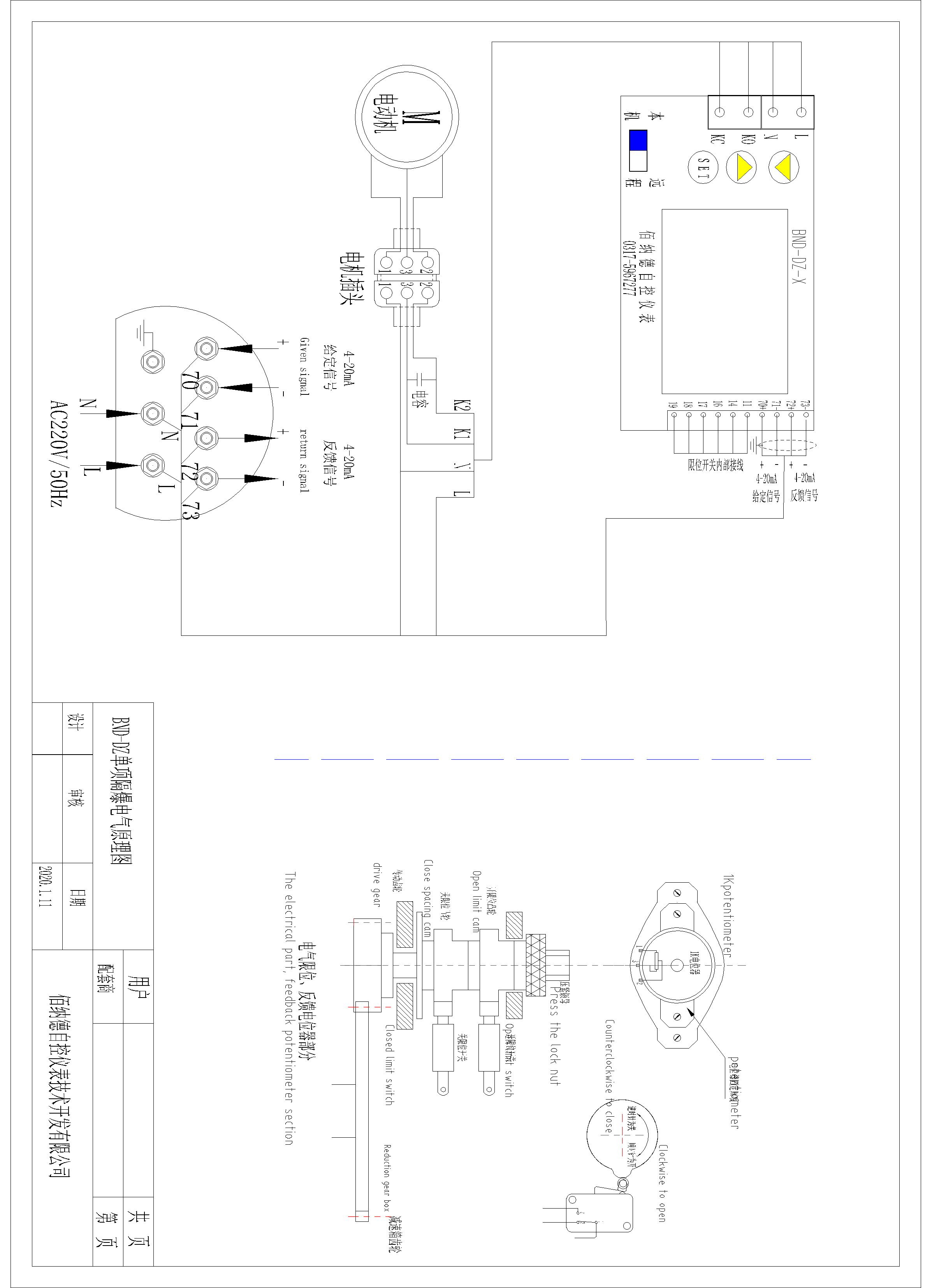 注:反馈4-20mA电路72为24V+,73为信号端。
  Note: The feedback 4-20mA circuit 72 is 24 V+and 73 is the signal terminal.
  2、操作指南
  2. Operating instruction
  1)液晶显示
  1) LCD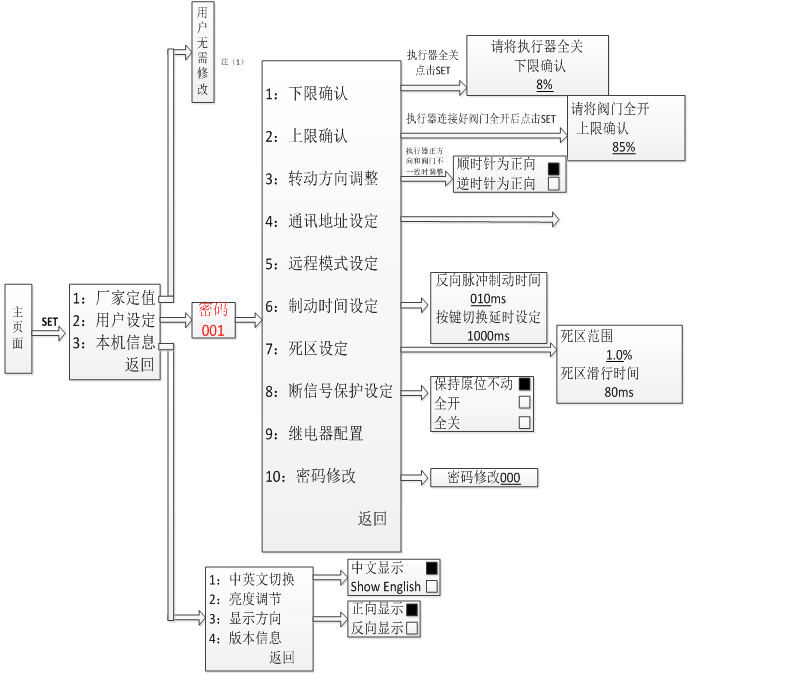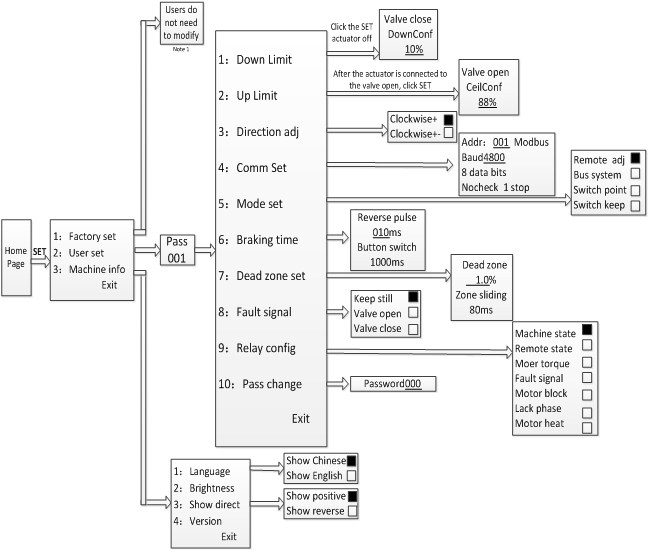 注(1):厂家定值为校准4-20ma给定反馈数据,为防止用户误操作,影响精度,此处不对用户开放,如若有特殊要求请联系我公司。
  Note (1): Factory setting value is calibration 4-20ma given feedback data, in order to prevent user's wrong operation affect precision, here is not open to user, if there are special requirements, please contact our company.

  1:本地模式手动操作 2:远程模式/4-20ma控制 3:英文页面正向运行 4:开到位
  1: Local mode manual operation 2: Remote mode / 4-20ma control 3: English page forward running 4: Open to place
  注2:堵转判断为当给执行器动作指令,经过8秒后反馈数据不变判断为堵转,重启解除,堵转一般为内部线路故障。
  Note 2: Blocking refers to that there is no change of feedback data after 8S when the actuator is given action command. It can be relieved when restarting, generally, blocking is internal circuit fault.
  3)用户调试方法
  3) User's debugging method
  a)通电前检查落实:1、严格按照端子定义接线2、信号线和交流电源线分设电缆,两者之间距离不小于25mm,信号线要使用屏蔽电缆,屏蔽电缆的屏蔽层要可靠接地。
  a) Check before power on, wiring strictly according to the definition of terminal, signal wire and AC power wire are set cable respectively, the distance between them should be not less than 25mm, signal wire should use shielded cable and the shielding layer should be reliable grounding.
  b)检查接线正确后,将控制模块中间位置拨动开关拨到本地模式再通电,防止中控有给定信号控制执行器转动。
  b) After checking and wiring is correct, allocate control panel to local mode and then power on, to prevent actuator rotate controlled by given signal.
  c)按 键,观察执行器输出臂转动方向,是否和阀门关向一致, 如方向一致,将执行器和阀门都全关,通过调整执行器输出臂的位置,将其和阀门输出臂链接,注意执行器输出臂和阀门输出臂中心距一样长。
  c) Press key and observe whether the output arm rotation direction of actuator is consistent with closed direction of valve, if they are same, close all actuator and valve. Connect to valve output arm through adjusting the position of actuator's output arm, should note that the center distance between actuator output arm and valve output arm is same.
  d)按SET键和 键选定用户设定,输入密码001.进入到下限确认,应显示8%到15%之间数字,按SET键保存,页面自动退出,按 键进入上限确认,按SET键进入,按 键按住当阀门全开时按SET键保存。控制板会记录上下限位,并自动配置到0-100%。并将凸轮上的极限限位开关设定到全开全关位置。最后按返回到远程控制模式测试和DCS配合动作情况。
  ) Press SET and into select user setting, input password 001 to lower limit confirmation, should display 8% to 15% figure, set SET to save, the page will automatically exit; Press into upper limit confirmation, press SET into and press key, press SET to save when all valves are open. Control panel will record upper and lower limit position and automatically configure to 0-100%. In addition, set limit switch on the cam to fully closed and open position. The debugging personnel will record your upper and lower limit value on inner wall of shell, which is convenient for detection and maintenance in the future. Finally, press to remote control mode to test tracking.
  e)若现场定义转动方向和执行器定义转动方向相反,请将用户设定选项中的转动方向调整改为逆时针为正向,再执行第四步奏。
  e) If field definition rotation direction is opposite with actuator definition rotation direction, please adjust rotation direction in user's setting options to counter-clockwise as forward, then perform the fourth step.
  f)用户设定的其他项和本机信息,可以根据现场情况修改,一般无需修改,我公司出厂已经调整好。
  f) Other items and machine information set by user can be modified according to field situation, generally, not need to be modified because we have been adjusted when leaving the factory.
  五、维 护
  V.Maintenance
  执行机构应长期运行后要定期进行维护。
  Actuator should be regularly maintained after long-term running.
  对于振动较大的场所应该经常检查紧固件、接线端子是否松动并及时拧紧。
  For the field with large vibration, should often check whether the fasteners and terminal block are loose and give timely tightening.
  应根据使用环境的恶劣程度和工作的频繁程度确定适当的大修周期。
  Should determine proper overhaul period according to the severity of environment and the frequency of work.
  应仔细清洗零部件,更换全部紧固件及磨损的零部件、失效的密封件。在拆装时避免损伤密封面,如有损伤务必修复或更换,装配时应在接触面上涂一层薄油脂,有助于密封、防锈及以后的维修。
  the sealing surface when disassembling, and must repair or replace for the damage. When assembly, should coat a thin layer of grease on contact surface, what is helpful to seal, anti-rust and maintenance in the future.
  应清除所有的润滑脂重新装填好新的高温锂基润滑脂(ZL 1)不少于减速器内部及各轴承空腔体积的1/2。
  Should eliminate all grease and re-fill new high-temperature lithium based grease (ZL 1), not less than 1/2 of reducer interior and cavity volume of various bearing.
  在拆装检修电动机时注意在接口处涂密封胶以保持密封和防水、防尘性能。
  Should note to coat sealant in the interface when disassembling and maintaining the motor, to keep the sealing, water-proof and dust-proof performance.
  将力矩行程限制器装入减速器时先手握凸轮组逆时针转动约一圈半,当力矩行程限制器的齿轮与蜗杆(或轴齿轮)齿合好之后再松手,调整好间隙后紧固安装螺钉。
  When making torque stroke limiter into reducer, should first hold cam and counter-clockwise rotate about one and a half circles, and then loosen after the gear and worm (or shaft gear) of torque stroke limiter mesh, adjust the gap and then fasten and install screw.
  用500V兆欧表检查各接线端子间及其与机壳间的绝缘电阻。
  By 500V Meg-ohmmeter to check insulation resistance between connecting terminals and shell.
  按本说明书的规定接线、调整和安装执行机构。
  Wire, adjust and install actuator according to the regulations of this manual.
  六、贮存
  VI. Storage
  产品贮存在温度为-10~+50℃,相对湿度不大于80%的通风的室内,周围空气中不得含有对产品起腐蚀或其它损坏作用的介质。
  The product should be stored in ventilated room with temperature of -10~+50℃ and relative humidity not more than 80%, surrounding air shall not contain the medium with corrosion or other damage role to product.
  贮存期超过18个月的执行机构在使用前应更换减速器的润滑剂。
  Before use, the actuator of storage period more than 18 months should be replaced the lubricant of the reducer
  七、保证事宜
  VII. Guarantee
  在正常情况下,自发货之日起12个月本公司对产品免费保修。
  In normal circumstances, the company provides free guarantee for the produce within 12 months from the date of delivery.
  对于逾期或用户违反本说明书的规定误安装或误操作造成产品损坏本公司可以应用户要求进行维修,但将收取相应的费用。
  For the product damage caused due to overdue, or user's wrong installation or operation of violating the provisions of this manual, the company can repair according to user's requirements, but will charge the appropriate fee.
  八、技术支持
  VIII.Technical Support
  孙工:15203271958
  Sun Gong:15203271958
  董工:15203271997
  Dong Gong: 15203271997
  李工:15203271955
  Li Gong: 15203271955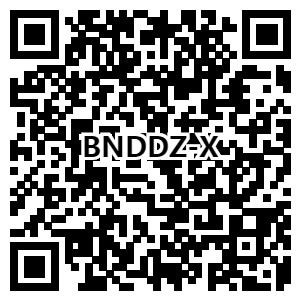 调试出现问题请扫描此二维吗,观看优酷调试教程
  Debugging problems please scan this two-dimensional do, watch youku debugging tutorial